Commonly Asked Questions About our Sound Stages
The MediaMix Studios FAQ page should give you a good general overview of what we have to offer. If you need more details, please don't hesitate to give us a call at 201-262-3700 or drop us an email at info@MMix.net
---
WHERE is MediaMix Studios located?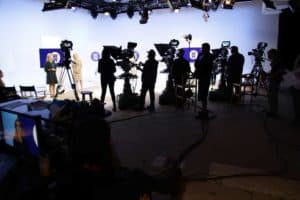 MediaMix Studios is located at 4 Pearl Court in beautiful and quiet Allendale, New Jersey. We're right off Route 17 South, which places us just 20 minutes from the George Washington Bridge and about 35 minutes from midtown Manhattan. We're in the zone. Need directions?
Is there PARKING at MediaMix Studios?
We have a large parking area with more than 30 parking spaces. If those run out or if you have a larger vehicle, on-street parking is available. There is no cost for parking, no meters to feed, and no worries about getting towed. Our parking area runs down the entire right side of the building. The spots in front are for our neighbor and we ask that you don't use their spots.
What are the STUDIO DIMENSIONS?
We have two sound stages studios. The larger "Studio A" is 55′ x 50′ and 16′ to the grid. The smaller "Studio B" is 34′ x 34′ and 16′ to the grid. Both studios are double-wall insulated, three-wall hard cyc, with lighting grids controlled by ETC dimmer consoles. Click here to learn more about the studios.
Do you have any GREEN SCREENS?
Both of our studios usually have floors and walls ready for green screen production. Half the floor and one full wall of Studio A is green. If you just plan on shooting a talking head, Studio B is a smaller with a wall perfect for that application. We also have five 10′ x 18′ green fabric backdrops available for use. If you need to have the entire studio painted green, we can do that for you at an additional cost.
Do you rent LIGHTING packages?
We have various lights that are available for use, ranging from a couple of Arri 150 fresnels up to Mole-Richardson Solar Spot 5Ks on stands. You can view our lighting list here.
Do you RENT CAMERAS or other GEAR?
We have four Panasonic P2 cameras, one Sony F55, and two Sony Z1U cameras. We also rent our Jimmy Jib, teleprompters, TriCasters, and other hardware. Click here for more information.
Are there HOTELS in the area?
Finding lodging in the area is easy. Some are within walking distance. Click here for more hotel information.
If we need PROPS are there good places to go SHOPPING?
Bergen County is home to some of the best shopping in the state. There are multiple malls within 10 miles of the studio and countless smaller stores for just about anything you could possibly need, including hardware, clothing, electronics, and furniture.
Do you have a KITCHEN SET to shoot on?
Our kitchen is not only designed for catering to feel comfortable in, but can also be used as a set. It has already been "seen on TV" as well as a featured film. In fact, many of our rooms have been designed as sets.
Do you have an area for CATERING to SET UP?
If you're not using the kitchen as a set, you're more than welcome to use it for catering. Equipped with a fridge, microwave, dishwasher, and a large center island, you should feel right at home there.
Can we do LIVE SHOTS or LIVE WEB STREAMING from your studios?
Absolutely. We have connections set up for parking a satellite truck out back as well as capabilities for live webcasts using our symmetric 100Mb fiber internet connection.
Does MediaMix Studios have EXPENDABLES?
We have a very limited supply of expendables. We recommend that you bring your own. We may have something if you need it in a pinch, but we generally don't keep a large supply of things like gels, diffusion, or black wrap.
Do you have MAKE-UP or WARDROBE ROOMS?
We have two make-up rooms with half-hight mirrors and lights. We have hair dryers and a steamer if you need them. The spacious wardrobe room features full-length mirrors and is just a few steps away from make-up. You can see more of them here.
Does MediaMix have SHOWERS?
Yes! Both the men's and women's bathrooms are each equipped with a shower and small changing area.
How do we LOAD IN?
We make loading in or out a breeze. Both studios have easy access to our covered loading ramp and dock. With our loading ramp, you can drive vehicles right into Studio A with access through our Common Area into Studio B. 
Can we DRIVE INTO THE STUDIO?
Yes. The concrete ramp leads into Studio A and can handle low-profile vehicles. For reference, we had a 2019 Aston Martin Vantage pull into the studio without scraping its front air deflector. We also invite crews to use the ramp to load in or park on during inclement weather.
Do you have WI-FI?
Free Wi-Fi is available to all visitors. We have placards in many rooms of the facility to tell our visitors what the network name and password are for our guest network.
What are your RATES?
We make every effort to work with your budget and provide a fair price. Let us know what your project involves along with any other things your might need, like cameras or crew, and we'll work on getting you a price you're comfortable with. Call us with details about your project 201-262-3700
Are there places around the studio that can provide CATERING?
We know crews love to eat and there is no shortage of good food in the area. From bagel shops for a small crew at breakfast to full-blown caterers handling a crew of 60 or more for lunch, there are lots of options. Give us a call and let us know what your plans are and we'll recommend a few places for you to call.